Scholastic Announces Knight Bus Tour Schedule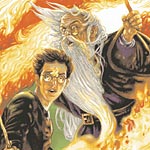 Apr 11, 2007
Uncategorized
Beep Beep! As part of their "There Will Soon Be 7" campaign, Scholastic, the US publishers of the Harry Potter novels, have announced the dates of a special Knight Bus tour. Kicking off June 1 from New York City, the Knight Bus tour will feature a bus that will travel to 37 different libraries across the US over a seven week period, as we await the release of Harry Potter and the Deathly Hallows. At each stop, fans:
"will be invited to board the Knight Bus and share on video their thoughts and feelings about the Harry Potter books. Select video clips from each location will be uploaded for viewing and sharing on www.scholastic.com/harrypotter. Additionally, each person will receive a unique username and password so that they can view their own video online.

"We know that one of the most incredible things about Harry Potter is the amazing discussion that it ignites among fans of all ages," said Lisa Holton, President of Scholastic Trade and Book Fairs, Scholastic. "The Knight Bus tour is the perfect way to let fans from across the country share their Harry Potter experience as they await the conclusion of this remarkable series."
So get out your calendar and check the following schedule to see the Knight Bus in a town near you.
Friday 6/1 Book Expo America
New York City (open to conference attendees only)

Monday 6/4

10 am-1 pm Providence Public Library
South Providence Branch

3-6 pm Providence Public Library
Mount Pleasant Branch

Tuesday 6/5

9:30 am-12:30 pm Boston Public Library

Central Library

2:30-5:30 pm Boston Public Library
Codman Square Branch Library

Thursday 6/7

12 noon-3 pm New York Public Library
Bronx Library Center

Friday 6/8

10 am—1 pm Queens Borough Public Library
Hillcrest Library

3—6 pm Queens Borough Public Library
Elmhurst Library

Saturday 6/9

10am-1pm Brooklyn Public Library

3-6pm Newark Public Library

Wednesday 6/13

10 am-1 pm Free Library of Philadelphia
Main Branch

3:30-6:30 pm Free Library of Philadelphia
Lawncrest Branch Library

Friday 6/15

9 am-12 noon Baltimore County Public Library
The Cockeysville Library

2-5 pm Enoch Pratt Free Library System, Baltimore
Southeast Anchor Library

Saturday 6/16

10 am-1 pm Prince George's County Library System
New Carrollton Branch Library

3-6 pm Prince George's County Lib System
Oxon Hill Branch Library

Tuesday 6/19

9:30 am-12:30 pm Washington DC Public Library
Petworth Branch Library

3-6 pm Montgomery County Lib System
Bethesda Public Library

Wednesday 6/20

10:30 am-1:30 pm Fairfax County Public Library
Chantilly Regional Library

3:30-6:30 pm Arlington Public Library
Central Library

Saturday 6/23

10 am — 1 pm Cuyahoga County Public Library, Ohio
Parma Snow Branch Library

3-6 pm Cleveland Public Library
Rockport Branch

Tuesday 6/26
11 am-2 pm Chicago Public Library
Sulzer Regional Library

4-7 pm Chicago Public Library
Budlong Woods Branch Library

Wednesday 6/27

10 am — 1 pm Chicago Public Library
Woodson Regional Library

Thursday 6/28

10 am — 1 pm St. Louis Public Library
Main Branch

3-6 pm St. Louis County Public Library
Daniel Boone Branch Library

Tuesday 7/3

9-12 noon Maricopa County Library District, Arizona
Northwest Regional Library

2-5 pm Phoenix Public Library
Chavez Branch Library

Thursday 7/5

10 am-1 pm San Diego Public Library
Mission Valley Branch Library
Fenton Marketplace in Mission Valley

Friday 7/6

9 am-12 noon County of LA Public Library
West Covina Library

2-5 pm County of LA Public Library
Clifton M. Brakensiek Library

Saturday 7/7

9 am-12 noon Los Angeles Public Library
Mid-Valley Regional Branch Library

2-5 pm Los Angeles Public Library
Central Library

Tuesday 7/10

10 am-1 pm San José Public Library
Cambrian Branch Library

3-6 pm San José Public Library
Berryessa Branch Library

Wednesday 7/11

11 am-2 pm San Francisco Public Library

Main Branch

4-7 pm Oakland Public Library

Main Branch