Scholastic Asks: "Who Will Live, Who Will Die?" in "Harry Potter and the Deathly Hallows"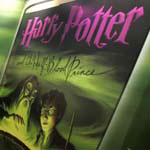 Apr 17, 2007
Uncategorized
As promised, Scholastic has now formally launched the "There Will Soon Be 7" campaign, heralding the release of the upcoming Harry Potter and the Deathly Hallows. In a major revamp to their Harry Potter website, the US publishers of the books have now unveiled new activities, downloads and more for fans. As we reported earlier, this new campaign would feature seven questions for fans, with the first this week seen in short video via this link asking the question
"Who will live, Who will die?" as we all await the last installment in the Harry Potter series. Fans can choose from a list of characters, and then you check whether they will live or die in "Deathly Hallows." To vote, click here.
Other things include new polls, new bookmarks and posters to print out at home, e-cards, places to write reviews of each of the Harry Potter books, a chance to explore in detail each of the covers to the books, and more. One cool item of note is a desktop alert widget that you can have at home to give you updates as we are now under 100 days to the release of Harry Potter and the Deathly Hallows which will be available July 21, 2007. To see all of these many updates, click here. Enjoy!