Scholastic CEO on Life after "Deathly Hallows" and More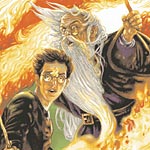 Apr 21, 2007
Uncategorized
The New York Times newspaper has a new interview with Scholastic Chief Excutive Officer Richard Robinson, who answers quite a few questions on working with Harry Potter author J.K. Rowling, discussing the impact her books have made on the US publishers of the Harry Potter series, as well as answering a few questions about Harry Potter and the Deathly Hallows.
When asked specifically if this was in fact, the last of the Harry Potter books, Mr. Robinson answered "we can believe this is the last book on Harry Potter." He was later asked again about any possible additional Potter books or any other book J.K. Rowling may write and responded with the following:
NYT: Going back to our first question, I noticed you emphasized the words Harry Potter when you said Ms. Rowling's last book on Harry Potter. Do you have a first option on any other series she might be doing?
RR: No, but we refer to ourselves as her U.S. publisher and she's very loyal to us and we're very loyal to her. We'll keep working together. It's less likely we won't get it. It's more likely it won't be another Harry Potter."
Later on during the interview, the executive was asked if he knew details and the outcome of Harry Potter and the Deathly Hallows.
NYT: Yes, speaking of how it ends, we've heard that two people get killed. Can you say who they are? And people also want to know if Harry and Hermione finally, er, get together in the end?

RR: (Laughs) I don't even know. Really. There's a small number who read the book. I don't. I'm sure she thinks of the ending of Charles Dickens's Little Nell, when people were waiting at the boat docks for the last sequel — to see if Little Nell was going to die. You know, one of the great things is getting people to imagine what's going to happen: my 10-year-old has an absolutely brilliant interpretation. We're starting a campaign for teachers to use in classrooms: seven questions, including who lives and who dies. Many people, including world-famous authors, are trying to figure out how it will end.
Harry Potter and the Deathly Hallows will be released on July 21, 2007.
Thanks Jenny!