Alan Rickman to appear on Weekend Today; New Interview Online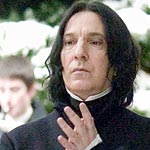 Apr 27, 2007
Uncategorized
Actor Alan Rickman is due to appear tomorrow on NBC's Weekend Today program, along with actress Sigourney Weaver. They will be appearing to promote their film Snow Cake, and it is unknown if Mr. Rickman will mention his role in the upcoming Harry Potter and the Order of the Phoenix. Weekend Today airs on NBC; check your local listings for more.
Thanks MJ
UPDATE: On a related note, Mr. Rickman appeared last night after a screening at the Roger Ebert film festival in Champaign, Illinois, and was asked about his role as Professor Snape. In response to a question relating to another film called "Perfume", the News-Gazette has the following from a new interview with Alan Rickman:
Rickman, who was a graphic artist before he went into acting, also said he never expected to have a film career. "I never thought it would be part of my life. It was a bit of a shock." He is probably now best known to moviegoers, particularly younger ones, as Professor Snape in the Harry Potter movies. A young woman in the audience asked Rickman what Professor Snape would have thought of Grenouille's "miracle potion."

"Who knows what Professor Snape thinks about anything," he replied.