Dan Radcliffe to Appear on "American Idol" April 25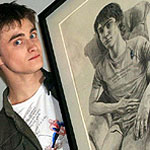 Apr 03, 2007
Uncategorized
Harry Potter actor Dan Radcliffe is set to be on the wildly popular reality show "American Idol" this month, not as a contestant but as part of a special event called "American Idol Gives Back." Along with fellow Potter actor Helena Bonham Carter (Bellatrix Lestrange), Dan will be appearing on this special program with a host of other celebrities such as Keira Knightley, Hugh Grant, Gwen Stefani and more for a special broadcast all for charity. According to the website this show is:
"a two-night special to help raise awareness and funds for children and young people in extreme poverty in America and Africa.he money raised by the two shows will equally benefit the U.S. and Africa. In the U.S., the money will be distributed to Save the Children and other U.S. organizations working to deliver programs to children living in some of the most disadvantaged areas of America.
This show is to be broadcast on the FOX television channel starting April 25. Tickets to the taping of this event at either the Idol studio or the Walt Disney Concert Hall out in Los Angeles, California will go on sale ON A NEW DATE now of Wednesday April 11 at 10am on the internet only via Ticketmaster.com More details when we get it.
UPDATE: Page from DanRadcliffe.co.uk let us know that this may be a taped appearance by Dan in some context. Again, we will update with more on this when we can.
Thanks much cardinaire