New PS3 OotP Video Game Images and IGN Interview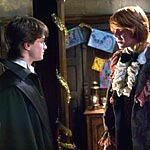 Apr 30, 2007
Uncategorized
Three brand new images from the Play Station 3 "Harry Potter and the Order of the Phoenix" video game have been released today, they show a poised Harry and Ron practicing DA spells in the Room of Requirement, the DA at the Ministry and Dumbledore battling Voldemort in the Ministry Atrium. These fantastic images can be seen in our extensive OotP Video Game section of the image galleries.
IGN.com is also featuring the second part of an interview we told you about earlier this month with EA producer, Harvey Elliott, on the creation and development of the OotP video game. In this half, Mr. Elliott speaks of the evolution of each game and the sense of discovery the gamer can find in this game:
"The school is absolutely full of discoveries, each one rewarded with discovery points that when collected will upgrade Harry, Ron and Hermione's magical ability and better prepare them for the battles ahead. Each discovery relates to a physical part of Hogwarts as opposed to being a generic 'collectible'. For example, you can use your incendio spell to reveal and light the floating candles in the Great Hall, or you can use your magic to uncover secret symbols in the courtyards and through experimenting with magic find bigger discoveries throughout the castle. And with each you make a permanent change, physically altering the appearance of the school."
The Harry Potter and the Order of the Phoenix video game will be released on the PlayStation 2, PlayStation 3, PC, PSP, XBOX 360,Nintendo DS, Nintendo Wii, and Gameboy Advance platforms June 25, 2007.
Thanks to stargategaming and bjclayton92 for emailing!