Nickelodeon Magazine Launches OotP Premiere Contest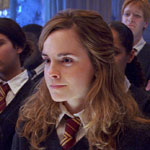 Apr 04, 2007
Uncategorized
The April issue of Nickelodeon Magazine contains a new contest to attend a WB movie premiere, including Harry Potter and the Order of the Phoenix. The magazine contains a special center section promoting this "Coming Attractions Sweepstakes," that is open for US legal residents between the ages of 6 to 14 who will win a three-day/two night trip to a WB premiere in either New York or Los Angeles. No specific date nor time is given for any of the premieres of these movies, nor does it specify which of the cities will see the OotP premiere. You may enter by mail using the card found in the magazine or by sending in a postcard with your name, address, phone number and birth date to
Coming Attractions Sweepstakes c/o Nickelodeon Magazine
P.O. Box 4043
Grand Rapids, MN 55730-4043
All entries must be submitted by May 1, 2007.
The magazine feature on this contains a full page ad for Harry Potter and the Order of the Phoenix, using the Voldemort poster released previously and seen on the teaser website, with the phrase "You will lose everything" across the top and the 7/13/07 release date under the title of the film. Also, there is a game board found in this section, with questions about OotP, the upcoming Nancy Drew movie and TMNT film, as well as a separate page detailing each of the films. The Order of the Phoenix film promo features the photo of Harry with his wand from the Dementor scene, along with smaller individual photos of Harry (Dan Radcliffe), Ron (Rupert Grint), and Emma Watson (Hermione). Anyone with scans of these, please send them in! This issue of Nick Magazine, featuring singer Justin Timberlake on the cover, is available on newsstands now.
UPDATE: Our friends at Harrypotterfanzone.com let us know they have the scans for this, which you can see here. Thanks Matt!