Hogwarts Train Vandals Update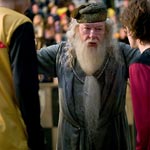 Apr 05, 2007
Uncategorized
Following up on the news from late last month of young vandals damaging the Hogwarts Express train carriages, police announced today that they have arrested ten youths in connection with the March 10th vandalism.
A police spokesperson said on Thursday that "ten youths have been arrested after 337 windows were smashed on various trains at the West Coast Railway Company Depot in Carnforth, Lancashire." Police also said the youths, aged from 12 to 14 years old, were released on bail pending further inquires and are expected to report back to the British Transport Police the first week of May.
The train carriages, which sustained over £50,000 worth of damage, have been vandalized before. £3,000 worth of damage was caused in September of 2003 when graffiti was sprayed on the train carriages.
Thanks to all who mailed!