Unpretty in Pink Professor Umbridge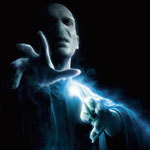 Apr 08, 2007
Uncategorized
Newsweek magazine has a brief new interview online with actress Imelda Staunton on her role as Professor Umbridge in the upcoming Harry Potter and the Order of the Phoenix. Taking on the role of the new Defense Against the Dark Arts professor in the fifth film, the acclaimed actress describes her thoughts and reactions to playing the nasty and pink-attired Professor.
"A year before Staunton got the part, a friend suggested she would be perfect for it. "I read the book, and Umbridge is described as a short, ugly, toadlike woman," Staunton says. "I thought, 'Oh, thanks very much'." Staunton plays her as an apple-cheeked schoolmarm—drenched in pink angora—who is restricting freedoms (and free thought) to "protect" the students. "There can't be any mess or any individuality," Staunton says. "But, of course, that leads to brainwashed people."
The article also contains a quote from fellow Potter actor Jason Isaacs about how "every great British actor is either in the movies or desperate to get into them" (the Harry Potter films), which Imelda Staunton says there is room for some good acting. She said "You may think that it's just a bunch of wand-waving, but there's a lot of proper acting going on."
Also of note was the small mention at the end of the article from Harry Potter film producer David Heyman on the decision by Emma Watson to sign on and continue her role as Hermione Granger for the last two Harry Potter films.
"Clearly, we wanted her back, but it was important that she make this decision for herself without any undue pressure."

Thanks Ann, Katherine and HPANA.