USA Today: "Sorcerer's Stone" Most Memorable Book of Past 25 Years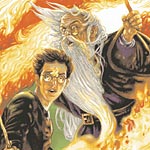 Apr 09, 2007
Uncategorized
The USA Today newspaper has a feature on the 25 Books that leave a legacy, spotlighting the most memorable reads of the past 25 years. The number one spot on this list is Harry Potter and the Sorcerer's Stone by J.K. Rowling. According to the paper:
"Midnight book parties, all-night readathons, overnight deliveries: A boy wizard named Harry got kids (and adults) thinking that reading was cool. And mega sales of the magical series redefined what it meant to be a best seller."
Rounding out the top ten are the following:
2) "The Deep End of the Ocean" by Jacquelyn Mitchard (1996)
3) "The Da Vinci Code" by Dan Brown (2003)
4)"The 911 Commission Report" by the National Commission on Terrorist Attacks (2004)
5)"Chicken Soup for the Soul" by Mark Victor Hansen and Jack Canfield (1993)
6)"Men Are From Mars, Women Are From Venus" by John Gray (1992)
7)"Dr. Atkins' New Diet Revolution" by Robert C. Atkins (1992)
8) "And the Band Played On" by Randy Shilts (1987)
9) "Beloved" by Toni Morrison (1987)
10)"The Greatest Generation" by Tom Brokaw (1998)
To see the entire list, more information about these books, as well as a poll to vote who you think should be the number one book, click here.
Thank you Julie!