Even More New "Order of the Phoenix" Poster Book Images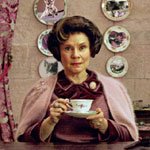 May 01, 2007
Uncategorized
When it rains, it surely pours, for we have even more new looks at the Harry Potter and the Order of the Phoenix poster book, including new photos of Prof. Trelawney (Emma Thompson), Prof. Snape (Alan Rickman), Prof. McGonagall (Dame Maggie Smith), Cho Chang, (Katie Leung) Luna Lovegood (Evanna Lynch), Neville (Matt Lewis), Seamus (Devon Murray), Fred and George with their Weasley Wheezes (James and Oliver Phelps) and much more. Courtesy of livejournal user ebonyserpent we can now see some nice scans of the following posters:
UPDATE:In addition to the ones below, even MORE new photos are now on the ootpmovie pic livejournal, including new photos of Remus Lupin (David Thewlis), Lucius Malfoy (Jason Isaacs), Crabbe (Jamie Waylett) and Goyle (Josh Herdman). Despite a reported June publication date, these are apparently from the new OotP Sticker and Poster books. Thanks Alexander!
Thanks to ebony and Claire!