"Harry Potter and the Order of the Phoenix," the Cell Phone Game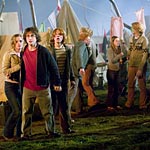 May 10, 2007
Uncategorized
IGN.com is reporting today about the Harry Potter and the Order of the Phoenix video game, only this time about the mobile version of the game that you can play on your cell phones. At an event held recently, the website had a chance to preview this platform of the game from Electronic Arts, noting "there is about two hours of gameplay in the Phoenix story mode, plus extra goodies, such as a standalone wizard battle component." The report also says:
Visually, Phoenix is one of the more impressive mobile games I have seen. The game employs some fantastic lighting effects, such as pools of torchlight that aren't just painted on the floor, but are actual light sources that cast a glow on characters as they walk beneath them. Even better, the lighting tech is actually in service of the game — it's not just window dressing. In one level, Harry must sneak across Hogwart's during the night, avoiding detection by Slytherin patrols. You must duck in and out of the shadows, making sure that you are completely out of the illuminated zones before one of the Syltherin "thugs" spots you.
You can see some screens of this mobile game, here.
On a related note, Gamespot has another review of the OotP game on the Wii platform, here.