New "Order of the Phoenix" Commercial Airs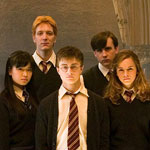 May 18, 2007
Uncategorized
Last night a new TV commercial for the upcoming Harry Potter and the Order of the Phoenix aired during the television show "Supernatural." This new thirty second ad features mainly clips from the film we've seen in previously released trailers, but does contain a few new shots that we haven't seen yet.
You can now view this new ad here as well in Leaky's Video Gallery. In addition to the video, a number of screencaps from the new commercial can now be seen in our own Image Galleries from LiveJournal community ootpmoviepics.
Thanks much to Linda and all who mailed!