International "Deathly Hallows" Release Dates, More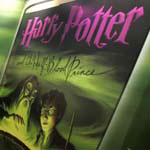 May 25, 2007
Uncategorized
We have a few bits of news for you today, regarding several editions of Harry Potter and the Deathly Hallows.
First, thanks to Dean from the Swedish Rowling Fanclub we know the Swedish edition of Harry Potter and the Deathly Hallows ( Harry Potter och Dödsrelikernahas) been given a November 21 release date.
Back in December we told you about pre-orders available for the German edition of the last Harry Potter book. Carlsen-Harry Potter.de has now formally updated their site with the October 27, 2007 release date.
Also, as a follow up to the "Unlock the Gold" contest for Australian fans to pre-order Deathly Hallows we told you about several months ago, we have news that it has been taken on a new twist. TLC reader Lily Phan let us know Bordes is now sending out an email saying that those eligible can gain a key to a room where you can "create a wizard, play games, download MySpace banners and other icons and interact with other fans around a virtual environment."
Finally, Lexicon Bel pointed out that NBP, the group that provides the Braille edition of Harry Potter and the Deathly Hallows (available for pre-order, here) is sponsoring a charity 5K Run and Walk Saturday, June 2, 2007 to help raise awareness and funds for the blind and visually impaired. According to the website Team Harry Potter and the Walking Wizards will be "led by Ashley Bernard and Adam Roberge" and " this energetic youth team will be raising funds to sponsor the braille edition of Harry Potter and the Deathly Hallows, which, like the previous Harry Potter book, will be released on the same day as the print edition. Registration is free for the first 50 youth registrants (16 and under) and the code when registering online is "Harry." Click the box that asks if you are over 13 years old even if you are not because there is no credit card transaction taking place." For more information, click here
Thanks to everyone who mailed!