JKR to Appear on "Blue Peter" Show; Contest to Win Tickets to Taping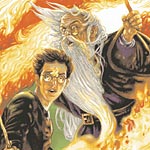 May 30, 2007
Uncategorized
Harry Potter author J.K. Rowling is due to appear on the BBC show "Blue Peter" and there is a new competition today for lucky fans to win a chance to attend the taping of this program. The show is due to be taped on July 5 in London, England with 25 winners selected (open to UK residents 14 years and younger at the closing date of June 15) who will also win a copy of Harry Potter and the Deathly Hallows. According to the website, the manner of entry for this contest is as follows:
1) On a piece of A4 paper, write a question that you have always wanted to ask J.K Rowling. Make the question as original as possible, something that she is unlikely to have been asked before.

2) On the other side of the paper, draw a self-portrait of yourself, but as a witch or a wizard!
Harry Potter.

3) Please include a recent photo of yourself, as well as your full name, age, date of birth, phone number, and address.

4) Post your entry to:

Harry Potter Competition
PO Box 20
London
W12 6BP
We do not know the exact air date of this program and will update with more on that as soon as we can. Thanks much Wendy!