Teacher Reminisces over J. K. Rowling as a Student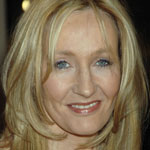 May 04, 2007
Uncategorized
In an article published in the Pioneer Press newspaper, Minnesota community college professor Dale Neuschwander speaks of the 1978-79 school year where he was a student teacher at Wyedean, "a rural, working-class, public secondary school near the border of England and Wales," and the future Harry Potter author, J. K. Rowling, studied in his Creative Writing class.
Mr. Neuschwander speaks glowingly of the 13 year old Jo Rowling, remembering:
"She got straight A's and A-pluses in creative writing," he said. "We were reading Golding's 'Lord of the Flies,' and the students had done some writing about it. I wish I had kept her essay about what she would have done on that deserted island and how she would have survived."

Neuschwander still remembers Rowling's writing style.

"I do recall an extensive vocabulary for one so young," he said. "I was also amused by her witty use of informal language in essays (slang, regionalisms, etc.). She has a good sense of humor."
The article recounts more on the studious Jo, and once her publication Harry Potter series, her correspondence with her former professor, a letter that still hangs on his wall.
Thanks to Catty and Claire!