UK Pricing Wars over "Harry Potter and the Deathly Hallows"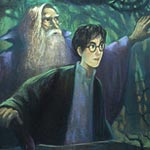 May 06, 2007
Uncategorized
With pre-orders at an all time high and 12 million copies set to be in print, stores in the UK are facing very stiff competition and many are selling Harry Potter and the Deathly Hallows at extreme discounts, creating a possible 'price war' among the many retailers vying for customers wanting to get their hands on the final book July 21st. The TimesOnline is reporting that major retailers are concerned whether a profit can be made while offering such greatly reduced discounts to their customers.
Bloomsbury, which has sold 325 million Potter copies worldwide, sells the books to retailers for about 55 per cent below the cover price, so supermarkets will be making a loss if they sell them much below £8.10.

Neill Denny, the editor-in-chief of The Bookseller trade journal, said that Harry Potter was one of the most discounted of all the children's books series available. He said that UK retailers had sold 22.5 million copies of JK Rowling's series for a total of £172 million compared with the £243 million they would have earned if it was sold at full price.
Thanks to coriolan for emailing!