Burger King an Inspiration for Ministry Set in "Order of the Phoenix"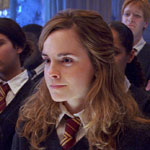 Jun 02, 2007
Uncategorized
Another new report is online about a visit to the set of Harry Potter and the Order of the Phoenix, this one from the Northern Echo. In this article, there is a fun mention of how production designer Stuart Craig drew inspiration for the set of the Ministry of Magic from a "Burger King in London's Tottenham Court Road."
In another part of the studio, Bafta-winning set designer Stuart Craig is overseeing the construction of the Ministry of Magic. The tiled exterior looks magnificent, although he reveals it's only MDF with a good lacquer finish.

"Even though it's a magical place, you try and give some kind of authenticity and credibility to it, so we went looking at some of the more interesting parts of London Underground. One thing a lot of them have are fantastic ceramic tiles. So I thought 'we'll nick that and run with that'."

Inspiration comes from the most unlikely sources, such as a Burger King in London's Tottenham Court Road. Craig has borrowed designs from this Victorian building for the ministry offices.

He created the world of Hogwarts for the first film. "We looked at the oldest buildings and they are, of course, in Europe, the great cathedrals and the Oxford and Cambridge colleges. We used them as locations and also stole from them," he says.
The visit also took place the day actor Rupert Grint (Ron Weasley) was celebrating his 18th birthday, and Rupert mentions working with the various directors, including new director David Yates.
The balloons and neatly-packaged parcels on the table in the canteen at lunchtime are a clue to Grint's reason to celebrate. It was his 18th birthday. He's already left school and, like Radcliffe, is eager to do other work, having already starred with Julie Walters (his Weasley mother in Potter) in the film, Driving Lessons.
…
All three have learnt much over the five films, especially having different directors on the last three. Goblet Of Fire director Mike Newell was "not afraid to be rude or swear if you got it wrong", says Grint. David Yates, who's helming Order Of The Phoenix following TV success with Sex Traffic and State Of Play, is "really good at telling what you want to do", he adds.
Thanks Blue Twilight Dew!