J.K. Rowling to Include Bookmarks in Deathly Hallows to Help in Search for Missing Madeleine?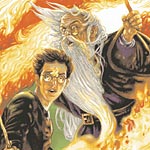 Jun 02, 2007
Uncategorized
The Scotsman is reporting that J.K.Rowling may take new efforts to help in the search for a missing child from the U.K by including special bookmarks in copies of Harry Potter and the Deathly Hallows. As we told you previously, Jo had donated a substantial amount to the reward fund for Madeleine McCann, a young four year old girl from the UK who was taken from her family while on holiday in Portugal. Tonight, the paper quotes her father as saying of this new possible contribution by JKR:
"There has been some indirect contact with her. We are thinking about getting bookmarks with Madeleine's photographs and getting the author's agreement.

"Someone like JK Rowling has got massive appeal and a Harry Potter book would be ideal."
You can learn more about this case of the missing Madeleine, here.