TLC's "Harry Potter and the Order of the Phoenix" Press Junket Report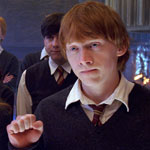 Jun 22, 2007
Uncategorized
Earlier today a press junket for the Harry Potter and the Order of the Phoenix was held in London. There, the cast and crew gathered to answer questions about the newest film and share insight on many topics related to the film. Lorie Damerell covered this event for The Leaky Cauldron and her report of the press conference follows below. Thank you Lorie!
~—~
Harry Potter and the Order of the Phoenix Press Junket
June 21, 2007
By Lorie Damerell for The Leaky Cauldron
At the press conference for "Harry Potter and the Order of the Phoenix" in London, someone asks the main trio of actors whether there are any initiation rituals for the arrival of a new director. (Emma Watson says no.) It's an interesting opening for a press conference that discusses so many things, first interviewing Rupert, Dan, and Emma, and later Michael Goldenberg, David Heyman, and David Yates, and which ends up delving into the darker elements of the fifth Harry Potter story. Despite so many diverse questions, there are recurrent themes; themes of love, friendship, and honesty.
Emma is asked about her deliberation over signing up for the sixth and seventh movies. She makes it clear, that like the character that she plays, learning is important. 'I really want to go onto university' she tells the audience, and reiterates how fortunate she is that Warner Brothers is so accommodating for her, arranging tutors for her on set, allowing her to go to school on Mondays, and even providing a service so that she can send work off to be marked over the weekends. She also confesses that she found the rumours surrounding the lack of immediate signing 'frustrating and upsetting.' Her love of learning was obviously tempered by her love for her character.
Daniel speaks of how they have all grown up with their characters and whilst he does not know whether 'Harry as a character has influenced my character a lot,' Emma tells us that 'sometimes I feel I barely have to act,' because she grew up with Hermione. But it is hard to judge how closely they are each influenced by their characters, Emma says, because 'we can't see ourselves from the outside.'
Unfortunately, Daniel could. In the fifth film there is a memory scene of Harry from the first film. Daniel was in an audience where he heard a 'load of girls go "Ahhh!" – something he describes as 'soul-destroying!'
Have they pre-ordered the next book, or do they already have the necessary information from J. K. Rowling, another journalist asks. Daniel suspects that J. K. Rowling's husband may have had a preview but that they certainly had not. They know J. K. Rowling very well so that even asking for an autograph would be awkward. Well, not for Rupert. 'I actually did!' he says, referring to when he first met J. K. Rowling and had Harry Potter and the Philosopher's Stone signed.
Just as Rupert is lucky enough to have a signed book, he is also fortunate enough to own an ice-cream van, all stocked up, something he calls 'brilliant!' Daniel owns that he has not indulged quite so much despite many rumours about wanting to buy a Fiat Punto in a very special shade of green. 'I would like to point out,' he says, 'I have never bought ' or intend to ' a fiat Punto!' Emma is learning to drive. She finds getting into a car really 'intimidating,' which is rather similar to her character's feelings on flying.
Talk turns to acting again. Do the actors desire to leave any message with their acting? 'Oooh,' is the collective response which leads Emma to talk about Harry's journey and the importance of friendship, particularly as illuminated in the fifth film. Friendship 'gives him something to fight for' she says, and Daniel backs her up: Harry's journey is about sticking to your guns if you know that you're right and what you're representing to the truth, you 'can't let yourself be compromised.' And the way that Rupert, Daniel, and Emma, almost as a unit, answer the audience's questions, illustrates a real-life friendship.
But what if their characters die? Rupert would not mind 'if it was a really cool scene' for him to act but Emma has not 'really contemplated it' as yet, taking it for granted that Hermione will survive the series. They speak of the closure that many fans desire when they read the final book installation; indeed, Daniel thinks that Harry's death would be 'fitting' and that he thinks Harry might die, 'but that's based on absolutely nothing' even if there are bets being placed on the death of the boy hero. 'There are bets?' Emma interjects loudly, 'you serious?!'
The fifth Harry Potter story sees the emergence of Dumbledore's Army with Harry at the helm. All three really enjoyed acting out the scenes; Rupert because of the stunts he was able to do, including taking on Hermione and losing, whereas Harry explored his inner Henry V, thoroughly enjoying turning his character into a leader, even if Yates did tell him to '"reign it in a bit".' But acting on the set itself was less enjoyable. Mirrors on every wall and a huge roaring fireplace meant that the room looked amazing, but was incredibly hot. But 'we weren't cruelly treated,' Daniel says.
Instead he found himself pushed harder than ever in this film. After many takes David Yates would tell him that he could improve or that what he had just done did not seem real enough. At times Daniel felt that he could not do it, but 'I could,' he insists. And the film shows that he can. Daniel felt that he needed a challenge and he got one in Yates. Emma watched all of Yates's other work; 'oh my goodness!' she says, for it 'really made me feel something' and she knew that his standards were very high. Not so high, however, that the three did not fall in love with him. Daniel describing him as a 'lovely man', a 'delightful man', and 'this fantastic director'; he even suggested breaking Yates's legs whilst he was sat in his director's chair 'so he can never leave!' Yates, Rupert says, was 'a contrast to Mike Newell', being 'a lot more relaxed.'
How has the audience changed over the course of the five films, someone asks. There is a varied audience but 'always a good sort of feedback', Rupert explains. Daniel elaborates, saying that there is an element of uniqueness that Harry Potter attracts such a 'huge range of people.' One day Emma is asked for an autograph by a young child, the next day someone who is thirty or forty. But perhaps most special of all is that just as the actors have grown up with their characters, they have also grown up with their initial audience.
With an audience comes fame, so how do the actors deal with it? Emma makes a comparison to Harry, who is a nobody for the first part of his life and is then thrown into a world where everybody knows who he is. For her, however, it is a lot easier as she feels she has 'never known anything different' to being a child actor and as she has grown up in this environment it has built up her confidence. She is 'really well looked after' by those with whom she works, but they 'all have really strong families' around them. Quite unlike Harry, and it obviously helps.
Harry Potter and the Order of the Phoenix features a Harry known to many fans as Capslock!Harry; he's angsty, he's hormonal and he's a teenager. So what, the three are asked, are Harry's bad points? Realistically Daniel points out that everybody has bad points; Harry lashes out at his friends because he knows that they will be there for him in spite of it. Daniel also thinks that Harry is, to an extent, selfish because Harry feels that he is this 'great defender' and should 'cut himself off' from those who care about him. There is some merit, he continues, in what Snape has to say about Harry inheriting from his father: his arrogance. Emma is more tolerant. She lists all that Harry has had to put up with, including the Dursleys who are 'anyone's worst nightmare', and surmises that it's amazing Harry has not gone completely off the rails. 'He's a survivor', 'she says, 'a fighter'. And Daniel reminds us of something J. K. Rowling once said, that if you didn't understand Harry's anger in the fifth book then you haven't understood what he has been through in the previous four books and Harry's right to feel angry.
And what were their favourite scenes from the latest film? Rupert really enjoyed the scene in the Hall of Prophecies, which was shot entirely in green room. Daniel is content with anything so long as it isn't on a broomstick 'for fairly obvious reasons,' but there is a clear agreement that all of them thoroughly enjoyed the scene immediately following Harry's kiss with Cho Chang. 'I was on the floor, just laughing, like ¦ laughing' Emma says; and most notable was that it was all natural. The laughter shared between Harry, Ron, and Hermione at that point was the same sort of laughter shared between the friends Daniel, Rupert, and Emma. It was simply just a genuine episode of giggling. After Rupert, Daniel, and Emma have left and Goldenberg, Heyman, and Yates have entered, this scene is mentioned again.
The second half of the conference takes a slightly different tone as the producer, director, and screenwriter take questions, the first of which dives in at the deep end: what was their biggest challenge in Harry Potter and the Order of the Phoenix? Yates answers; it was about making choices about what to cut out in the adaptive process for it was a 'huge book to condense'. He wanted a story which 'felt organic', that 'felt cohesive' and was not episodic with a successful story arc. And what was that arc? It was Harry's journey. As the three actors had already mention, it was about a young wizard 'isolated and misunderstood' under an 'intrusive political regime'. He says that it is something 'Jo captures beautifully in the book' and he wanted, as a fan, to do it justice.
How much did they work with J. K. Rowling? She was 'a dream collaborator', says Heyman. During the film Harry enters a room whose walls are entirely covered by the Black family tree tapestry; it was something which needed detail, something that needed 'to be more than four or five names.' All it took was a telephone call to the author, for fifteen minutes later she gave them a family tree with seventy-five names covering five generations, birth dates, marriage dates and family exorcisms.
Later it is asked whether there were any conflicting visions and how they were reconciled and the three demonstrate their love of the books. There were no conflicting visions because they were all building from the same foundations, it 'all comes from the books', Heyman explains, and if there were any uncertainties they would contact J. K. Rowling. Indeed, she would even point out to them any potential errors. There had at one point been the threat of writing out one of the characters, but J. K. Rowling said that if they then attempted to work on the seventh story, it would have them 'tied in knots'; the character stayed but Heyman has left fans guessing as to which character this was.
Goldenberg is then asked about his own work as screenwriter. 'It wasn't as daunting as it might appear' he tells. The book had a 'basic narrative' and was 'pretty self-contained'. It was a 'process of finding Harry's story' the spine of which was Harry's emotional voyage. It was not as simple as just going with the first draft, however. Such perfectionists were Goldenberg, Heyman, and Yates that they were continually revising the script 'right up until the last day of shooting'. And it was the atmosphere created by the likes of Heyman which enabled this. Yates felt that he was in a 'very secure and creative environment'.
Heyman had the enthusiasm of a fifteen year old and 'that spirit is infectious.' Daniel had already mentioned how he had been challenged by Yates and in detailing how the actors had developed throughout the course of filming, Yates divulges that he 'pushed all of them a lot' in making his film. Daniel always 'loved to turn something on a sixpence' he says, and 'really embraced' his opportunities. Yates even went so far as to bring in for a few hours a bereavement counsellor to talk with Daniel about how people react to traumatic losses, so that the actor might understand what his character felt after seeing Cedric murdered. It is with a certain amount of pride that Yates talks of Daniel asking 'really bright questions' and having an 'amazingly vivid imagination' which permitted him to parallel the real world and the experiences of his character.
For it is a darker film. In addition to Harry's own inner demons that he must fight, he must also contend with an increasingly oppressive Ministry of Magic and, in particular, Dolores Umbridge. The film addresses 'politics with a small "p"', says Yates. Heyman acknowledges that there are 'threads of Nazism and racism'; the totalitarian regime is encapsulated by the very Soviet-looking banner of Cornelius Fudge seen in the Atrium of the Ministry.
Imelda Staunton, who Yates describes as 'a bloody good actor, actually' does an amazing job of bringing Dolores Umbridge to life. Umbridge in the film is quite terrifying as her true feelings cannot be truly seen, making her rather unpredictable. She is a many layered character and 'Imelda got all of that,' Yates says appraisingly. Umbridge is cruel and her detention with Harry Yates recalls as having a 'slightly religious' feel to it, cleaning Harry of his sins. It is a 'subtle form of abuse'. Does this make a frightening film? Of course it does. But 'did you never enjoy being scared as a kid?' argues Yates. As a child he thoroughly loved being scared. It makes children feel 'vital and alive' and he feels that it is important that 'children aren't patronized'. Yates explains that they showed the film to a group of very young children in Chicago, all abuzz with youth, caffeine and sugar, and yet the energy and lack of patronization in the film was enough to quieten them for over two hours.
But just as this story is about Harry overcoming the evils and hardships of the world through love and friendship, so too do Goldenberg, Heyman, and Yates speak about the strengths of family and friendship. Harry's first kiss with Cho was an important scene, not just because of its function in the storyline and Harry's development as a teenager, but for what it meant for the crew and the lead actor. Yates cleared the set of all those who were not crucial because 'everyone wants to gawp' as in any sex-related scene and he wanted it 'to be as tender and as true as possible.' And it was. Daniel's make-up and costume assistants were both rendered quite emotional by seeing 'someone they loved very much snogging for the first time'; and the 'someone' was Daniel, not Harry. It was the familial bond of the crew that made the scene extra-special for those involved, just as the bond of friendship between Rupert, Daniel, and Emma made the following scene similarly particular. They all knew each other so well that, to some extent, the script was abandoned and the three just improvised. Yates 'just encouraged them' to act out their giggles. 'That is not acting,' Heyman says, 'they were just being.' Which is probably why Yates says, 'I'm very proud of that scene.'
And whilst the fandom looks forward to the seventh and final book of the Harry Potter series, Yates has the added bonus of being able to look forward to directing Harry Potter and the Half-Blood Prince. He 'had such a nice time making this film' that he does not yet have the desire to depart from a 'very difficult world to leave'. Alfonso Cuaron and Mike Newell were both asked back to direct the fourth and fifth films respectively but, Heyman says, they did not have the stamina for it. Yates has the 'fortitude and strength to carry on.' Harry Potter is, as we all would probably agree, a 'dream experience' and Heyman continues to say that whilst making a film is about the audience, making a Harry Potter film is about 'doing their best' because they all love Harry Potter 'it's a passion'. And, hopefully, this love and passion held by everyone, for Harry Potter the character, and Harry Potter the concept and journey, will be seen in the film when it hits the big screen.