Gary Oldman: Mr. Nice Guy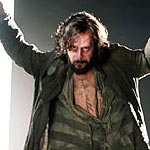 Jun 23, 2007
Uncategorized
Actor Gary Oldman, who plays Sirius Black in the Harry Potter film series, is the subject of a new interview with Telegraph Magazine. In the article Mr. Oldman speaks about his over twenty-five years as an actor, a time in which he played many roles, a few closely mirroring his own life. The topic of Order of the Phoenix also comes up, where Mr. Oldman talks briefly about his newly evolved role as not only godfather to Harry Potter, but more as a traditional father-figure as well, saying: 'I felt in a way that [in the new film] I got to play the character rather than the situation.'
Fellow Harry Potter actor Dan Radcliffe is also quoted, remembering the first time he met Mr. Oldman. Radcliffe noted:
"[Gary] was the person I was probably most starstruck about meeting. We're now really, really close.'

…

"There's something incredibly magnetic about Gary. I just think it's his intensity. It's a constant process of refinement when you work with him. Some actors will do a fantastic first take and after a couple of days, start to get tired. With Gary you could do 100 takes and every time he's trying to get it better and better. He's fearless.'

I ask Oldman if this is fair comment.

'Um.' Pause. 'Well it's very sweet of him.' Pause. 'Yeah, I guess that's pretty… Hmmm. Not as fearless as Mr. Radcliffe. Because I don't know if I could have done what he's done, and in particular what he's done recently in the theatre, in Equus.'
You can read the full interview here, where Mr. Oldman speaks more on this many roles, his family life and a bit more about the upcoming Harry Potter and the Order of the Phoenix which will be released in the US on July 11.