11 Clips from "Order of the Phoenix" Now Available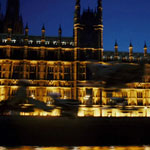 Jun 26, 2007
Uncategorized
A whopping 11 new clips from the upcoming Harry Potter and the Order of the Phoenix are now online.
UPDATE: The website moved these, and you now have to register to see them. We are working on getting them into our galleries and will have them asap.
Dubbed in German, these feature many scenes from the fifth movie, including:
The Order departing Privet Drive and their flight through London,

The meeting of the Order at Grimmauld Place
Trial at the Ministry
the DA meeting the Thestrals
Occlumency scene with Snape
DA Patronus meeting in the Room of Requirement (brilliant, and you can see Luna's hare Patronus, as well as Ron's dog Patronus)
A very chilling encounter with Lucius (Jason Isaacs) in the Prophecy Room at the Ministry of Magic where we see Bella (Helena Bonham Carter) meeting Neville (Matt Lewis) for the first time-just wow.
Major movie spoilers abound in the clips which you can watch, here. Please note the trailer for the film is first, then the clips start, each lasting a bit over one minute in length.
Thanks vidya!