Keith Olbermann Speculates on "Harry Potter and the Deathly Hallows"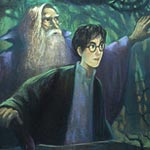 Jun 27, 2007
Uncategorized
Many readers have owled us to let us know MSNBC anchor and Harry Potter fan Keith Olbermann, of the Countdown television program, devoted a segment of his program last week to give viewers his thoughts on the soon to be published Harry Potter and the Deathly Hallows. Always with a sense of humor, Mr. Olbermann discusses some recent news adding in his perspective and speculating on the possible ending of the series.
As Mr. Olbermann says himself in the piece, fans who do not wish to hear his personal opinion of how the Harry Potter series ends or specific details of the alleged ending, as posted online by a supposed 'hacker' last week, do NOT watch the video.
Having been cautioned, readers who wish to watch the humorous video from last weeks show, can do so here.
Thank you to the many readers who emailed with this news!