First Newspaper Review of "Order of the Phoenix" Film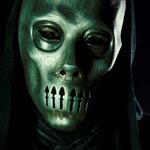 Jun 28, 2007
Uncategorized
The Times newspaper in the UK has published what they are calling the first review of the "Harry Potter and the Order of the Phoenix" film. Giving it 3 out of five stars, the review was based after seeing the premiere in Tokyo, Japan. The article is favorable towards the performances by Imelda Staunton as Professor Umbridge ("exquisitely dislikable"), and Helena Bonham Carter as Bellatrix Lestrange ("shining but underused talent"), but is less kind to the trio. Of the film as a whole, the reviewer writes:
The film itself is a solid, occasionally spectacular, wizarding romp which struggles unsuccessfully to give us the thrills and fun we have not already had in previous instalments. It is far crueler than its predecessors and begins to introduce properly the idea that we are no longer in an amusing magical playground, but are en route to an epic confrontation with real victims.
…

The director, David Yates, has inserted some lovely touches, including the Weasley twins' explosive transfer from the world of academia to the world of retail. But overall there is a shortage of those joyful little glimpses of the wizarding world's furniture that punctuated and perked up the previous films.
Thanks K!