Jason Isaacs Autographed "Lucius" Photo up for Charity Auction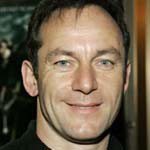 Jun 28, 2007
Uncategorized
A special autographed photo of actor Jason Isaacs in his role as Lucius Malfoy is up for charity auction, with proceeds to benefit St.Jude Children's Hospital. The photo, one of Lucius standing in the grave yard from "Goblet of Fire," bears a typically hilarious comment from the actor who writes:
"Lucius had lost his conditioner . . . and someone was going to pay. Love & evil, Jason Isaacs x"
You can see this photo here, along with more information about this ongoing auction which ends July 3. Jason has long supported St. Jude, and this is an authentic autograph, signed when he was making his recent mini-series "The State Within" for the BBC. Jason will be seen again in his role as Lucius for the upcoming Harry Potter and the Order of the Phoenix. Happy Bidding!
Thanks Hilary!