New Scans from OotP Sticker Book Feature Our First Look at Percy and More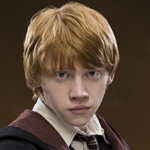 Jun 05, 2007
Uncategorized
Even more scans from the Harry Potter and the Order of the Phoenix sticker/poster book we've been showing you are now online, courtesy of Portkey.it. This new batch features, among others, our first look at Percy Weasley in this slightly spoiler-rific scan from the film. We also see:
A new scan of Harry and Ron,
You can see these scans along with many others from the film, here in our galleries.
Update: A number of additional scans from the sticker book have surfaced online courtesy of UHP. While many images are new, some do appear to be duplicates or are slight variations on images we've already seen. In this batch we see Remus Lupin, another shot of Tonks and Moody as well as a shot of Harry and Dudley standing in the alleyway and then, a pic of Dudley suffering the aftereffects of the Dementor's attack. For those with weak stomachs, click with caution. The rest of the scans can be seen starting here in our Image Galleries.
Thank you Mirko!