PotterCast 92, Our First Tour Stop, Now Available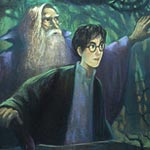 Jun 09, 2007
Uncategorized
The first show of our summer tour for PotterCast, our Harry Potter podcast is up! To listen, just hit the "Play" button on the right side of the page (—>), or use iTunes, or direct download.
Chicago is the first stop on our BIG PotterCast Summer 2007 Tour:
– We make a big announcement about where we'll be on July 20th!
– In our new Deluxe Edition cover art discussion, we think we're seeing an Antipodean Opaleye dragon, not Norbert
– Could the trio be flying over Godric's Hollow?
– What scene could this be that would have Arthur Levine saying it was his favorite and requesting it? Could this be the final chapter and proof that the trio live?
– Chicagoans are the first to take the 5-question "Best Potter City" Deathly Hallows prediction exam! Chicago says: Harry will Live, Snape is Good, Harry is Not a Horcrux, Harry won't return to school; and we won't go behind the veil.
– What about Harry's Scar? What about his eyes? Could either have some significance in book 7?
– Could a Hallow be the opposite of a Horcrux?
– Mr. Blood makes his return!
– Our next show will be in Albuquerque, New Mexico and we'll be live with HARRY AND THE POTTERS!
RT: 0:37:15
Editor: Matt Kelliher
PotterCast's Summer of Seven Tour
HarryPotterSeven.com
Scribbulus
Podcast Alley
Digg
Direct download (36 MB).
Direct download low-bandwidth (8 MB).
To see photos from this live PotterCast, go here in our Image Galleries! If you have photos from the event that you'd like to share, please email us at [email protected]
Remember you don't need an iPod to listen. Listen easily on iTunes, which you can download and install here, by clicking here to listen, or you can just use the streaming Flash player at PotterCast.com or just on the right side of this page. Discussion of the PotterCast is right here. Enjoy!