July Issue of Scribbulus Now Online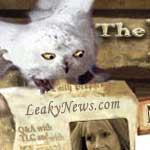 Jul 01, 2007
Uncategorized
The July issue of Scribbulus, Leaky's essay collection, is now online. This month we have eleven new essays for you. There are no less than four wonderful essays on our favorite former Potions Master, an analysis of the significance of Halloween in the Potterverse, speculation on Mundungus's role in the events occurring at Godric's Hollow, speculations on the future fates of some of the minor characters in the series, an interesting theory on a specific magical trait running in the Dumbledore family, a comprehensive overview of the power of love, a character analysis of Nymphadora Tonks and her mother Andromeda, and a moving and inspiring personal account of what Harry Potter and his fandom have meant for one young reader. Enjoy!
Scribbulus Issue 18 is the final edition of Scribbulus prior to the release of Harry Potter and the Deathly Hallows. Our next issue will be released on 1 September, and we are requesting reviews on the final installment of the series for that issue. Submissions for our next issue close on 4 August.
From everyone at Scribbulus, have a wonderful, exciting, magical summer!