More "Order of the Phoenix" Film Reviews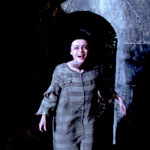 Jul 10, 2007
Uncategorized
With less than 12 hours left until the first midnight showings of Harry Potter and the Order of the Phoenix take place, more reviews of the film are being published across the country. Here is a roundup of the latest reviews from the past few days:
The Miami Hearld has a glowing review of the film, which gives it three out of four stars. The review begins by saying:
The plot finally thickens in Harry Potter and the Order of the Phoenix,or at least it builds up enough momentum to pull off the most amazing magic yet for the wildly popular franchise: It is genuinely engrossing.

Devoted readers of the J.K. Rowling novels may disagree, but this is the first installment in the soon-to-be series-of-seven that doesn't seem like just another spinoff capitalizing on the money-minting Harry Potter brand name. Instead, Phoenix feels like a real movie, albeit a chapter in a larger narrative that is only now starting to develop into something interesting and substantial.
Legendary film critic Roger Ebert also gave his opinion on the film. Published in the Chicago Sun Times Mr. Ebert notes the darker and more serious turn of the films, which showcase, along with the books, the characters growing up. Mr. Ebert describes a particular scene in the film, that he feels notes this evolution and goes on to say on the subject:
There will come a time, I fear, as we approach the end of the series (one book and two films to go), that Harry and his friends will grow up and smell the coffee. They weren't trained as magicians for fun. When they eventually arrive at some apocalyptic crossroads, as I fear they will, can the series continue to live in PG-13 land? The archvillain Voldemort is shaping up as the star of nightmares.
A number of other reviews of the film can be found here:
Update: On the films official release date, a slew of new reviews have been published online. Here is a few more reviews of the latest Harry Potter film.
Thanks to all who mailed!