Scholastic Editor Arthur Levine: "I'm just the stand-in for the reader"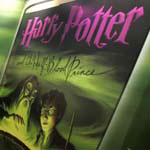 Jul 11, 2007
Uncategorized
As we have now enjoyed ten years of the Harry Potter series and are at ten days until the release of Harry Potter and the Deathly Hallows (yes only TEN DAYS left!), the Washington Post has a new profile online of Scholastic editor Arthur Levine which takes a look back at his process and the journey of bringing Harry here to the US. In the article, Mr. Levine describes his job as editor of the Harry Potter novels saying " I'm not her collaborator. I'm just the stand-in for the reader." He says of the working process with author J.K. Rowling:
"Sometimes, he would say, "I do not know what's going on here," and Rowling would say, "I didn't want you to have that reaction at this point, so I think I'm going to move some information."

At other times, when he asked about something in one of the earlier volumes, she would say, "That's a good question. I'm okay with your wondering that here. I will answer that in Book 5."
When asked to describe how he feels as we reach the final installment in the series, the editor of the US editions of the Harry Potter book answers:
"I feel very, very proud of J.K. Rowling and what she's accomplished," Levine says. "I feel really proud to be associated with a group of such strong books that have brought so many people pleasure."

He hopes and expects to edit Rowling again.
On a related note, as today is the ten day mark until the release of "Deathly Hallows," Bel over at the Lexicon has a fun way for we obsessive fans to mark the occasion: a list of the times the number ten appears in the books. 🙂