UK Booksellers Not Willing to Break "Deathly Hallows" Embargo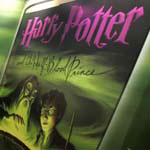 Jul 12, 2007
Uncategorized
As we get closer to the release of Harry Potter and the Deathly Hallows, the BBC is reporting today about the temptation UK retailers are facing regarding possible early sales of the long awaited Harry Potter novel. The article cites many retailers who are unwilling to break the embargo and will not be selling copies of the book early, however the possibility remains that a few may try to sell the book before the July 21 release date.
It's quite possible one will break the embargo," says Katherine Rushton from The Bookseller magazine. "They'd do it to be first, and for all the PR."
…
Embargos on previous instalments of the series have generally been observed because Bloomsbury threatened to withhold future Harry Potter books from stores who flouted the rules. This time there is no such incentive.

"Because it's the final Harry Potter, Bloomsbury doesn't have that same power," says Rushton. "It has played its last ace card."
However many of the retailers said they would not be breaking the embargo:
"I'd be very surprised if anyone sold it early," said Tim Curtis of The Little Apple Bookshop in York. "I'm not sure consumers would want it."

"People like to be part of the midnight thing," agrees Suzanne Jones of Heffers in Cambridge.

"I've got an 11-year-old who has got it in her diary and she wants to go out and be part of it."

"To buy it in the cold light of day on a Friday is just not the same."
Update: UK publisher Bloomsbury has gone on to speak further on the issue, and release a statement regarding the BBC's article. The publisher's response says, in part:
Our embargo clearly states that in the event of a breach by one party, this does not release other retailers from the embargo to enable them to begin selling before 00.01 on July 21st. Bloomsbury would take immediate action against any copycat embargo breaching.

We have no reason to believe that anyone would want to ruin the excitement for Harry Potter fans, and if such a thing were to happen, we believe that the public would make their feelings known by not buying it from and boycotting such a spoilsport retailer. Millions of Harry Potter fans would revile such commercial opportunism or inefficiency.

Bloomsbury has worked closely with booksellers and other retailers over the last 10 years on Harry Potter, and we have always had overwhelming support from our customers and the general public to keep embargoes. There is a consensus across the trade to maintain the embargo and Bloomsbury ask all our customers to work with us in the next week to preserve the on sale date of 00.01am on July 21st.