'Details' On Dan Radcliffe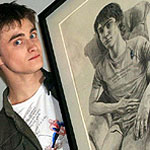 Jul 14, 2007
Uncategorized
The August issue of men's fashion magazine Details features a cover story interview with actor Dan Radcliffe, along with three brand new photos of the actor. In the article, Dan, being little more than a week shy of his 18th birthday, shows his more adult side when discussing his role as Alan Strang, a disturbed teenager in the West End production of "Equus," the child actor yearning to be an adult in a guest appearance on Ricky Gervais' TV program "Extras" and life, friends and school all while working on Harry Potter."
The article goes on to speak briefly with Harry Potter film producer David Heyman who notes the stable environment that Dan was raised in by his parents who he calls "…wonderful." Dan comments himself on his upbringing and on what is referred to in the article as a 'deep dislike of conspicuous consumption' by saying:
"Even when I was very young and before any of this had happened, I remember being repulsed by ostentatious displays of wealth' he says.

"People who have car collections"I never understood that. I always thought that was unnecessary. It's not beautiful, it's not creative. It's just showing how much money you've got."

He says that very early on in his Potter career he told his friends, "If I ever get cocky, just slap me' and there is a reason for this modesty. In his younger days he frequently overheard his parents discussing what he calls "all these arrogant actors' and he remembers thinking, Why would you be like that?
The images can be seen via a slideshow available on the Details site, which also features an exclusive video of the actor being interviewed during the photoshoot; both exclusives can be seen here.
Readers should be cautioned, the interview, as well as the video of the photoshoot, may contain some mildly inappropriate material for younger readers.
The August issue of 'Details' is on newsstands now.