Emma Watson Appears on CBS Early Show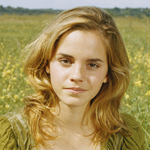 Jul 16, 2007
Uncategorized
Actress Emma Watson was a guest this morning on the CBS Early Show, where she discussed her role as Hermione Granger in "Harry Potter and the Order of the Phoenix." Saying she has seen this latest Harry Potter film four or five times now, she continues on to discuss her love of the Harry Potter novels and the omission some of the plot points from the movies, including the Hermione/S.P.E.W. storyline.
"Well, I was particularly excited about the house spells[sic] and just that whole storyline of taking care of the house and all of it got cut," she said. "None of it made it … I was really upset."
You can now watch this video interview of Emma via this link, then clicking on the right hand side. We will update you when we have this video in our galleries as well. A reminder as well that actor Rupert Grint (Ron Weasley) will be a guest on the same program tomorrow morning.
Editors Note: yes yes, we know they have wrong word and it should be House Elves not spells, as she clearly says elves in the video interview.