Harry Potter High Def DVD Box Set Due This Year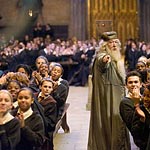 Jul 17, 2007
Uncategorized
At the Home Media Expo in Las Vegas, Warner Brothers has now announced that a special five disc box set containing Blu-Ray high definition DVDs of the Harry Potter films will be released this year. While a specific release date was not given, VideoBusiness.com has some details of this set which include the following:
The Harry Potter set, priced at $119.97 standard-definition and $149.99 Blu-ray Disc and HD DVD, will hold the first five films including the most recent theatrical installment, Harry Potter and the Order of the Phoenix. It represents the first time Warner has enhanced a Potter collection with exclusive memorabilia, which includes bookmarks and collectible trading cards.
No word on if these discs will include the bonus features found on previous individual discs, or if any new footage from the movies will be included. We will update with more when we can.