Rupert Grint Appears on CBS Early Show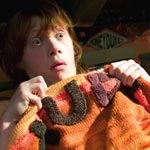 Jul 17, 2007
Uncategorized
Earlier this morning actor Rupert Grint made his appearance on the CBS Early Show to talk about Harry Potter and the Order of the Phoenix and what he does on his off time from filming. He also talks about the recent Hand, Foot and Wand imprint event that he, along with Dan Radcliffe and Emma Watson, took part in. Very surprised by the entire ceremony, he described by saying:
"We were really surprised we actually got to do that," he said. "I was really nervous about doing that. Before we went on, I was shaking pretty badly … It was amazing, yeah. I'm 19 years old and I've been in 'Harry Potter' movies and now I'm on the Hollywood Walk of Fame."
Portions of the interview can be read here where Rupert talks about his recent purchase of an Ice Cream truck, which he has taken to driving around in. He says of his new unique mode of transportation:
"When I was younger I had sort of " always seemed like a really cool job to be an ice cream man," he said. "And I thought, why not? It was really cool as well. Like a freezer and some sinks. It's got a musical tune and all that. We drive it all the time. It's good."
You can watch the video of Rupert's interview here on the CBS site. The video will be in our video galleries shortly.