Winners for the Deathly Hallows Autograph Contest Announced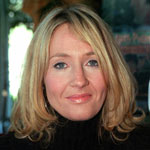 Jul 17, 2007
Uncategorized
Last month our contest crew brought you their latest contest, to see who could write the Most Inspirational and Most Humorous inscription you would like to see J. K. Rowling write in your copy of Harry Potter and the Deathly Hallows. After receiving many entries, our contest staff has handed in their results. Here are the winners of our Deathly Hallows Autograph Contest!
Most Humorous: Ryan King
To Ryan-

If Potter fans were Every Flavor Beans, you would be cheesecake (who doesn't love cheesecake?)

Magically Yours,

~ Jo
Most Inspirational: Rob Bradley
To Gryffin Bradley (My one month old son)

May you grow with the ambition of a Slytherin, the intellect of a Ravenclaw, the acceptance of a Hufflepuff, and the bravery of a Gryffindor.

Jo Rowling
A great number of Honorable Mentions were made along with the winners of the contest, you can read the full list of these wonderful inscriptions right here. Complete information on our other contests is on the Contest Page and be sure participate in discussion on our Leaky Lounge as well.
Congratulations to all!