New Interview with Dan Radcliffe from Parade Magazine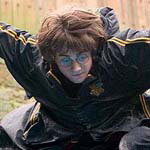 Jul 02, 2007
Uncategorized
Parade Magazine has let us know of a new interview they conducted with Harry Potter and the Order of the Phoenix actor Dan Radcliffe who discusses seeing himself grow up on screen, his performance in Equus and Dan's particular 'aversion to broomsticks.' Included with the article are two Parade photo sets which show Dan through the years and from a 2004 photo shoot. You can read the entire interview here, but here are two highlights from the conversation:
P: Everyone is looking for lessons in the Potter movies, what's the take-away from The Order of the Phoenix?<

DR: For Harry, it's about sticking to your guns. If something is true and right, then you can't let yourself be compromised by other people and outside forces.

P: Do you believe in magic?

DR: One-hundred percent. Yeah. Harry has inspired a lot of people"including me.
In addition, the print version of Parade Magazine, which appears in many Sunday newspapers throughout the States, will feature a cover story on Emma Watson in its July 8th edition.