J.K. Rowling on Future Writing Plans: "Lightning Does Not Strike in the Same Place Twice"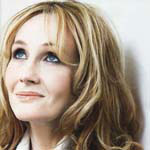 Jul 20, 2007
Uncategorized
The Associated Press is running a new interview with Harry Potter author J.K. Rowling conducted earlier this week, where Jo reflects on the end of the series and looks forward to a writing life beyond Harry. She remarks on the pressures and emotions she experienced while writing the series, and the pressures she faced all along noting:
"I was very lonely with it," she says. "It's not like being in a pop group, where at least there would be three or four other people who knew what it was like to be on the inside. Only I knew what it was like to be generating this world as it became bigger and bigger and bigger and more and more people were invested in it."
Jo goes on again to state how emotional it was for her to complete the final installment in the beloved series, saying when she finished "she felt terrible for a week," and added:
"The first two days in particular, it was like a bereavement, even though I was pleased with the book. And then after a week that cloud lifted and I felt quite lighthearted, quite liberated. Finishing is emotional because the books have been so wrapped up with my life. It's almost impossible not to finish and look back to where I was when I started.""
While the release of Harry Potter and the Deathly Hallows will close one chapter on her writing life, J.K. Rowling comments on what the future may bring for her.
As for the future, she says she has no plans.

"I can never write anything as popular again," she said. "Lightning does not strike in the same place twice."

"I'll do exactly what I did with Harry " I'll write what I really want to write, and if it's something similar, that's OK, and if it's something very different, that's OK.

"I just really want to fall in love with an idea again, and go with that."