Happy Belated Birthday, Jamie!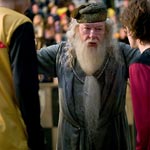 Jul 22, 2007
Posted by Melissa Anelli
Uncategorized
The site has been semi-closed while we've been reading (which is why you couldn't comment), so it's time to wish a very happy, belated birthday to our friend Jamie Waylett, who had the misfortune of having all Harry Potter fans' attention directed elsewhere this year. His birthday is July 21. So, here's to Jamie and his film counterpart, Crabbe, who, I think we can agree, we will all look forward to watching in movie seven.