In New Interview JKR Says She is "sort of writing two things at the moment"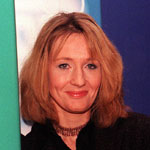 Jul 26, 2007
Uncategorized
In a lengthy new interview with the USA Today newspaper, author J.K. Rowling reflects back on life with Harry, the outcome of the final Harry Potter novel, and also about the early leaks of the book that occurred in the days preceding the release of Harry Potter and the Deathly Hallows. You can also see a lovely new photo of Jo, here in our galleries.
In regards to the leaks of the final book before the July 21 release date, Jo says it was upsetting to her and she "felt angry" about the leaks appearing on the internet, adding "I knew it was about other people's egos." She then goes on to say what upset her the most was the leak of the special end to the book.
"The (leak of the) epilogue upset me most," she said. "I had been working toward that point for a long time. I did have a sense-of-humor failure when the epilogue went up."
The bulk of the article focuses on Jo and her life, and a return to normalcy in the wake of the release of "Deathly Hallows" as she notes"
"I feel 80% of my life is completely normal," Rowling says. "It involves me raising my children, going to the supermarket and just living normally. My husband and I both work. Ten percent is fabulous in that you get invited to a Harry Potter premiere and you have a lot of fun at it. And 10% is the downside when you have tabloid journalists banging on your relatives' doors offering them money for their stories."
Our favorite author also discusses the legacy of the beloved series, stating that
"When all the hype and everything else dies down, they will have to float or sink on their own merits, won't they? So in 50 years time, if people are still reading them, they deserve to be read, and if they're not, then that's OK."
Finally, Jo looks to the future as she discusses her post Potter plans saying she does not know if she is currently capable of creating another world such as she did with Harry Potter. Jo says she is however "sort of writing two things at the moment…One is for children and the other is not for children. The weird thing is that this is exactly the way I started writing Harry. I was writing two things simultaneously for a year before Harry took over. So one will oust the other in due course, and I'll know that's my next thing."
Please NOTE, this indepth article on JKR, which you can read via this link, does contain a link to a second and VERY SPOILER FILLED article on the plot and characters found in Harry Potter and the Deathly Hallows. You are cautioned.