Nick Harry Potter News: "Deathly Hallows" Up for UK Kid's Choice Awards, Magazine Feature on OotP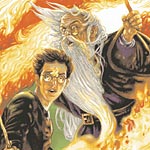 Jul 29, 2007
Uncategorized
Thanks to Nickelodeon for letting us know about a few pieces of news involving Nick and Harry Potter.
First, Harry Potter and the Deathly Hallows has been nominated at the first UK Kid's Choice Awards in the Best Book category. The final book in the Harry Potter series is nominated along with Blood Beast (The Demonata) by Darren Shan, Care and the Feeding of Sprites (Spiderwick Chronicles) by Holly Black, and Jacky
Daydream by Jacqueline Wilson. Actor Dan Radcliffe is also nominated as Best Actor for his film role as Harry Potter. These awards will be held at the Excel Centre in London, England on Saturday October 20. Starting Monday, residents of the UK can vote for their favorites, here.
On a related note, the August issue of Nick Magazine has a special feature (along with a cool poster) on Harry Potter and the Order of the Phoenix. Featuring interviews with Dan Radcliffe (Harry Potter), Emma Watson (Hermione Granger), and Ron Weasley (Rupert Grint), you can see an online magazine version of this issue, here.
Thanks to Nickelodeon!