What are the Deathly Hallows?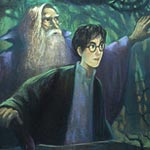 Jul 05, 2007
Posted by EdwardTLC
Uncategorized
The seventh and final question Scholastic is asking in lead up to the July 21st publication of Harry Potter and the Deathly Hallows has been released and voting is now open. Scholastic asked:
What Are the Deathly Hallows?
You are able to vote for one of these following choices:
We'll find out right away.
We'll find out in the middle.
We'll find out at the end.
You can vote your response to this question regarding the title of the final Harry Potter book on the Scholastic site, here.
With the final Harry Potter question having been released, you are now able to collect all seven of the bookmarks Scholastic has available
The previous questions asked by Scholastic, for which voting is now closed were:
"Who will live and who will die?"
"Is Snape Good or Evil?"
"Will Hogwarts reopen?"
"Who ends up with whom?"
"Where are the Horcruxes?"
"Will Voldemort be defeated?"