Video from JKR's Appearance on Jonathan Ross Program Now Online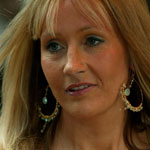 Jul 07, 2007
Uncategorized
As we have been reporting, author J. K. Rowling was interviewed on the Jonathan Ross program earlier today. Thanks to Roonwit, we now have the complete interview available to view in our Video Galleries!
During the interview Jo discusses the past seventeen years she has spent with the boy wizard, ten of which as a published author, whether any characters were based on people she knew in real life, her first reaction to her series being turned into a film and the recently announced Harry Potter theme park coming to Florida in 2010. She also speaks a little about her Comic Relief charity books as well as, very cautiously, about Harry Potter and the Deathly Hallows.
Readers should note, the interview does contain moments of adult language and themes that may not be suitable for younger readers.