'Hand, Foot and Wand' Imprint Ceremony to Take Place Today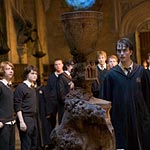 Jul 09, 2007
Uncategorized
Following the US premiere of Harry Potter and the Order of the Phoenix that was held last night in Los Angles, reports and pictures of which you can see here, actors Dan Radcliffe (Harry Potter), Emma Watson (Hermione Granger) and Rupert Grint (Ron Weasley) will be honored by having their hands, feet and even their wands imprinted in cement in the forecourt of the world famous Grauman's Chinese Theatre. The ceremony which is scheduled to begin today at 11:30am PST, will be covered by TLC and we will bring you our coverage of the event shortly.
WireImages now has pictures from the hand imprint ceremony now
now online.
The film, Harry Potter and the Order of the Phoenix, will be released in theaters nationwide July 11.