Rumor Alert: J.K.Rowling, Crime Writer?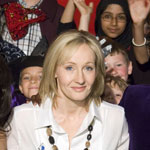 Aug 19, 2007
In a rumor that is spreading like wildfire tonight, many readers have owled about a report in the Sunday Times newspaper claiming that author J.K. Rowling is at work writing a crime novel. This report (similar to previous claims that Jo might someday write a mystery novel) stems from an excerpt from a new profile of Scottish writer Ian Rankin, who lives in the same neighborhood area in Edinburgh as J.K. Rowling, and is quoted in the Times article with the following:
Rankin's wife spotted JKR the other day "scribbling away in a cafe", he said last week, speculating whether she was "writing her Edinburgh detective novel".
The Associated Press is also running with this, and this report has a slightly more definitive quote from Ian Rankin, saying:
"My wife spotted her writing her Edinburgh criminal detective novel," the newspaper, which was available late Saturday, quoted Rankin as saying.

Rankin, famous for his own police novels set in the historic Scottish city, said he had not discussed the project with Rowling personally, and declined to reveal how he had learned about her plans.It is great that she has not abandoned writing or Edinburgh cafes," Rankin said.

…

The office of Rowling's literary agent Christopher Little was not immediately available to comment late Saturday.
Again, while Jo has stated in interviews since the release of Harry Potter and the Deathly Hallows that she was at work on two things ("one for children, one not for children"), please keep this very much in the rumor category for now. Thanks to all who emailed!