John Williams to Score "Harry Potter and the Deathly Hallows" Film?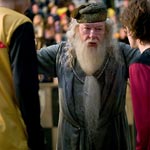 Aug 23, 2007
Uncategorized
There are reports online today stating that legendary composer John Williams would like to return to the Harry Potter films, and hopes to provide the score for the film version of Harry Potter and the Deathly Hallows. These reports stem from a recent appearance at The Berkshire Museum, where Mr. Williams gave a special lecture. Reports via FilmScore monthly and JWFan.com say Mr. Williams was asked about returning to the series for which he provided the first three scores (Harry Potter and the Sorcerer's Stone, Harry Potter and the Chamber of Secrets, Harry Potter and the Prisoner of Azkaban), and John Williams is quoted as saying "with confidence that he thinks he will be back for the last and then added that he hopes he is."
While not yet officially confirmed, Nicholas Hooper is widely rumored to be returning to score Harry Potter and the Half-Blood Prince, which is due to begin filming next month and is due in theaters November of 2008. Previously Harry Potter producer David Heyman announced a 2010 release for the film of Harry Potter and the Deathly Hallows, however no director for this film has yet been announced, let alone a composer. Please note while this may be exciting news for the many John Williams fans, please keep this as a rumor until official confirmation is provided.
Thanks very much to JWFan.com and FilmScore Monthly!