Harry Potter Films Help UK Tourism Business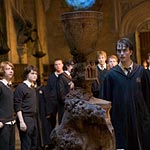 Aug 27, 2007
Uncategorized
Hollywood is good for business, including the tourism business in the UK. In a new report released today, locations used in many films such as the Harry Potter series are a big draw, and have led to a boost for the tourism industry, with fans flocking to locations such as Alnwick Castle in large numbers. The beautiful castle, used as a setting for Hogwarts, "led to a 120% rise in visitors to Northumberland's Alnwick Castle, and had brought about £9m worth of tourism to the region," reports the BBC.
Other locations in Scotland and England are also very popular, such as the King's Cross train station in London (and popular with certain PotterCasters who paid a visit there in July). At this station, reports the Independent, there is a plaque marking "Platform nine and three quarters" in response to the huge visitor demand to know where schoolchildren heading for the Hogwarts school depart."
Settings used in not only the Harry Potter films, but others such as The Da Vinci Code, Braveheart, Pride and Prejudice (both the latest film version and the classic mini-series with Colin Firth), Monty Python and the Holy Grail, and hit tv series Monarch of the Glen have resulted in a boost to the UK economy "to the tune of £1.8bn," and the trend is likely to continue.
"There are countless examples of visitors flocking to locations they've seen in films or on TV and the effect can last for years. Margaret Hodge, the minister for film and tourism, said it was "terrific" that the locations of successful fims were "becoming destinations in their own right as people seek to relive their favourite movie moments".
You can learn more about traveling to these locations via the VisitScotland and, Visit Britain websites.