Potter Actors Join Composer Patrick Doyle's Charity Concert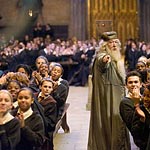 Aug 29, 2007
Uncategorized
A myriad of actors from the Harry Potter films are scheduled to appear at a charity event in the UK supporting blood cancer charity, Leukemia Research. Film composer Patrick Doyle's 'Music From The Movies,' presented along with Kenneth Branagh (Professor Lockhart), is an exclusive concert by Mr. Doyle at Royal Albert Hall, which will feature performances from the London Symphony Orchestra and the London Symphony Chorus. Mr. Doyle is slated to conduct his "Goblet of Fire" score as well as premiere his new violin concerto in F.
Actors from the Potter films such as Alan Rickman (Severus Snape), Emma Thompson (Professor Trelwaney), Gemma Jones (Madam Pomfrey), Imelda Staunton (Dolores Umbridge), Robbie Coltrane (Hagrid), Timothy Spall (Peter Pettigrew) and Harry Potter and the Goblet of Fire director, Mike Newell are all scheduled to appear along side many others at the charitable event which is in support of the Leukaemia Research Fund. Tickets are still available for the event which will take place in London, England on October 28.
Many thanks to TLC reader Michael for mailing in.