PotterCast 113: Live Call Out Show Now Online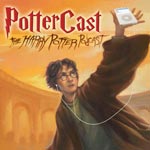 Aug 03, 2007
Uncategorized
Now presenting our first post-DH Call out show of PotterCast, our Harry Potter podcast! To listen, just hit the "Play" button on the right side of the page (–>), or use iTunes, or direct download.
Live Post DH Call Out Show
– Spoiler Alert! Read DH FIRST BEFORE LISTENING (or reading this summary)!
– Our first-ever call-out show for Deathly Hallows!
– We get your reactions to the book!
– New revelations and questions from the previous books.
– The Epilogue has mixed feelings – listen to arguments from both sides!
– What is the real importance of having the Hallows in the story?
– Also, see what happens when you leave us your phone number for a Call-Out show and don't answer.
RT: 1:18:20
Editor: Matt Kelliher
Direct download (33 MB).
Direct download low-bandwidth (9 MB).
Remember you don't need an iPod to listen. Listen easily on iTunes, which you can download and install here, by clicking here to listen, or you can just use the streaming Flash player at PotterCast.com or just on the right side of this page. Discussion of the PotterCast is right here. Enjoy!