Dan Radcliffe on HBP Film: Tragedy of Slughorn Outweighs Comedy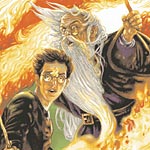 Sep 12, 2007
Uncategorized
MTV has a new interview with Dan Radcliffe now online, where the actor speaks about the upcoming "Harry Potter and the Half-Blood Prince" film, and talks about the role of new Potions master Horace Slughorn. Dan does not indicate who will be portraying this pivotal character in the sixth Harry Potter film, but notes that in the movie "most of the time he's gonna be very funny…but then you will really see the dark side of him."
Indicating that a key scene to be included will be from the "After the Burial" chapter in HBP, the article says the following:
The dark side, of course, is displayed most prominently in what's sure to be a vital part of the film ' Slughorn's memory of giving young Tom Riddle information on creating horcruxesHarry is ultimately able to retrieve the memory in a moment of great sadness, when he pleads with a sobbing Horace to erase the damage he's done and honor Lily Potter. It's moments like these, said Radcliffe, that make "the tragedy [of Slughorn] outweigh the comedy."
As stated no actor for the role of Horace Slughorn has yet been announced. Harry Potter and the Half-Blood Prince is set to commence principal photography later this month.